Atlantic City é uma cidade localizada no Estado americano de Nova Jérsei, no Condado de Atlantic. A sua área é de 44,125 km² (dos quais 16,29 km² estão cobertos por água), sua população é de 39558 habitantes, e sua densidade populacional é de 1421,2 hab/km² (segundo o censo norte-americano de 2010). A cidade foi fundada em século XIX, e incorporada em março de 1854.
A sua principal fonte de renda é o turismo e as suas principais atrações turísticas são as praias e os numerosos casinos e hotéis. Os nomes das ruas de Atlantic City foram utilizados na versão original americana do jogo de tabuleiro "Monopoly".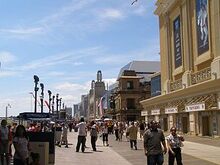 Atlantic City foi em meados do século XX lugar de recreio para os ricos e famosos que lá iam gozar férias. Presentemente é um destino bastante popular. A rua marginal de Atlantic City é o destino mais visitado de toda a cidade, marcando-a com lojas extravagantes e restaurantes finos. Este passeio de aproximadamente 9,25 km é considerado erradamente por algumas fontes como o mais comprido do mundo,[1] apesar de existir, por exemplo, o de La Coruña (Espanha) de 13 km[2]ou o de Usedom (Alemanha - Polónia) de mais de 12 km.[3] Além disso, o passeio marítimo está salpicado de famosos hotéis e casinos, como o 'Trump Taj Mahal' (propriedade do magnata
Divisas: Absecon, Brigantine, Pleasantville, Ventnor City, West Atlantic City e *Port Warren
Camarilla
Príncipe: Augustus Aelius Publios (dado morto)
Senescal: durante o principado de Augustus substituido pelo Conselho de Guerra
Primigênie:
Xerife: Alistair Grayson
Algoz: Joshua Church
Ad blocker interference detected!
Wikia is a free-to-use site that makes money from advertising. We have a modified experience for viewers using ad blockers

Wikia is not accessible if you've made further modifications. Remove the custom ad blocker rule(s) and the page will load as expected.